Blackrock
Faced with unprecedented market conditions, investors need to think differently about how they are investing for income.

1. Innovative income solution powered by signals and data driven insights
The strategy uses cutting edge technology and processes to build a diversified portfolio of dividend paying global equities and identify stocks with the potential to deliver high income at lower risks.

2. The other side of volatility is higher income potential
The solution may take advantage of today's volatile market environment to generate higher income premiums in its covered calls strategy.
Heightened market movements also create vast amount of data. Analysis on these real time data enables BlackRock to potentially cut through the noise to increase accuracy and forecasting power of stock and income return, and to capture potential capital growth when the global economy recovers.
Furthermore, to actively manage volatility, the strategy applies effective risk controls with the aim to achieve market upside while minimizing drawdowns.
3. Highly tactical model that focuses on the future
The new market regime requires agility and frequent tactical view changes based on current market developments, and less reliance on risk models calibrated to history. To reflect these movements timely, the strategy is rebalanced on a weekly basis, incorporating "real time" data into the signals that help the strategy stay nimble to navigate a rapidly changing market.
Changes in the top sectors of the strategy1
Decoding the Markets using a Systematic Approach
After a year of extreme macroeconomic events, the outlook for inflation has started to improve. So where's the market heading next as we are moving into Q2 2023? Alternative data reveals insight on the current economic backdrop and what it means for investors. Below are some examples of the data BlackRock leverages on.
Inflation Data
Despite negative perceptions, the inflation outlook has turned more benign, particularly in the US
Recent trends in stress indicators and shipping routes show they are now operating at pre-pandemic levels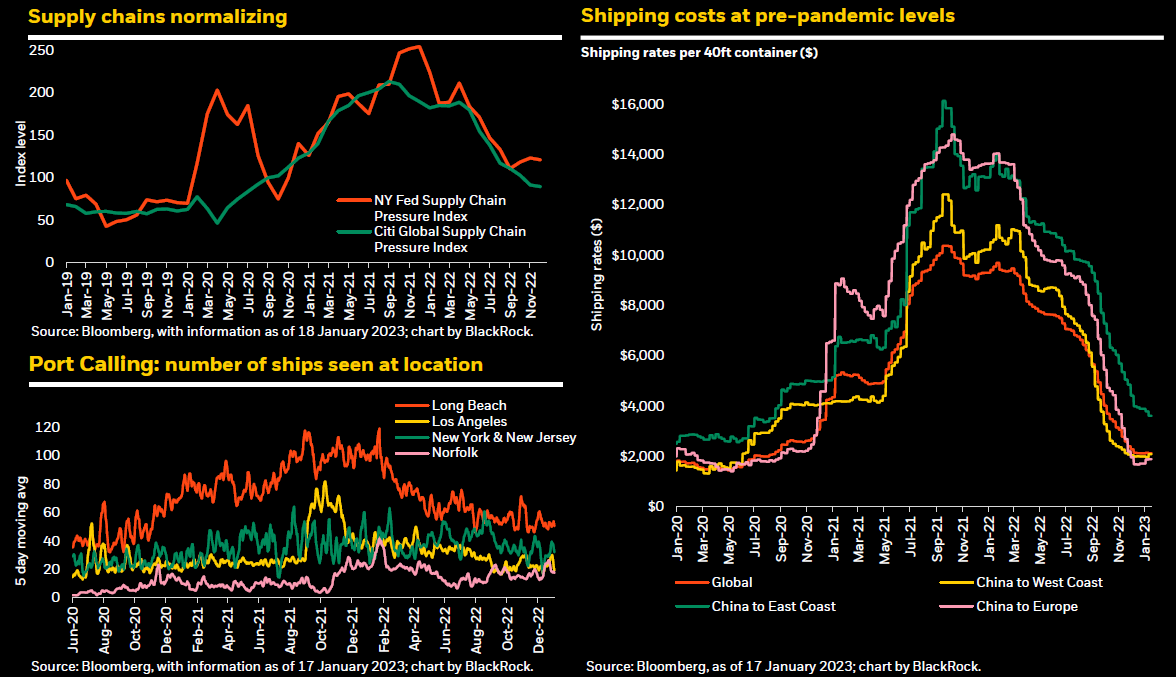 Housing Markets Data
Alternative indicators of US housing markets already show an important decline of shelter related inflationary pressures
Housing starts also showing signs of the market slowing down materially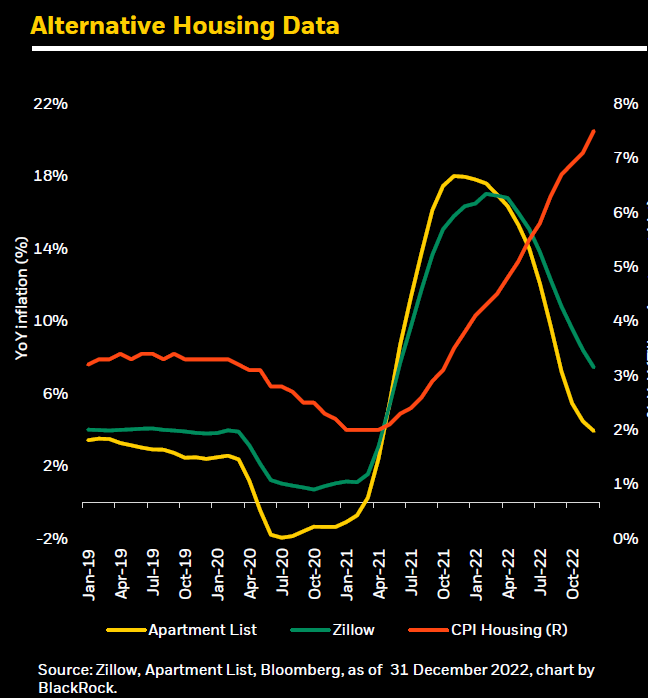 Labor Markets Data
Despite recession talk, labor markets may experience a growth-friendly adjustment
Job postings have started to moderate, especially in the tech sector
Announced layoffs shows a relatively moderate amount of job reductions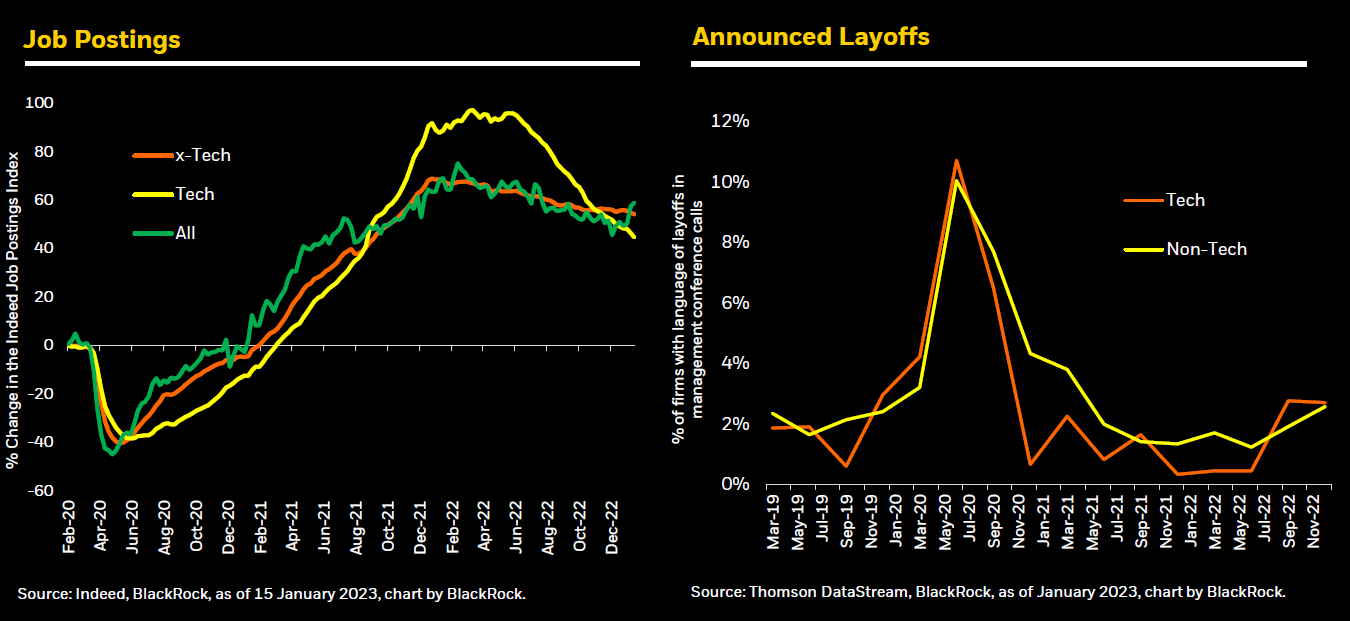 1Source: BlackRock, as of 31 December 2022. Allocations are subject to change. Due to rounding, the total may not be equal to 100%.
Important Information
This material is prepared by BlackRock and is not intended to be relied upon as a forecast, research or investment advice, and is not a recommendation, offer or solicitation to buy or sell any securities or to adopt any investment strategy. The opinions expressed are as of [End Feb 2023] and may change as subsequent conditions vary. The information and opinions contained in this material are derived from proprietary and non-proprietary sources deemed by BlackRock to be reliable, are not necessarily all-inclusive and are not guaranteed as to accuracy. As such, no warranty of accuracy or reliability is given and no responsibility arising in any other way for errors and omissions (including responsibility to any person by reason of negligence) is accepted by BlackRock, its officers, employees or agents. This material may contain 'forward looking' information that is not purely historical in nature. Such information may include, among other things, projections and forecasts. There is no guarantee that any forecasts made will come to pass. Reliance upon information in this material is at the sole discretion of the reader. This material is intended for information purposes only and does not constitute investment advice or an offer or solicitation to purchase or sell in any securities, BlackRock funds or any investment strategy nor shall any securities be offered or sold to any person in any jurisdiction in which an offer, solicitation, purchase or sale would be unlawful under the securities laws of such jurisdiction. Investment involves risks. Past performance is not an indication for the future performance.
In Hong Kong, this material is issued by BlackRock Asset Management North Asia Limited and has not been reviewed by the Securities and Futures Commission of Hong Kong.
No part of this material may be reproduced, stored in retrieval system or transmitted in any form or by any means, electronic, mechanical, recording or distributed without the prior written consent of BlackRock.
© 2023 BlackRock, Inc. All Rights Reserved. BLACKROCK is a registered trademark of BlackRock, Inc. or its subsidiaries in the United States and elsewhere. All other trademarks are those of their respective owners.