Setting yourself up for a secure financial future
As someone who's moved to Hong Kong and now lives here, there's one big question you need to ask yourself.
Am I making the most of the opportunity to set myself up for a secure financial future?
We're sure you won't be missing paying higher rates of income tax from your home country. You may even be in a position now where you are only being taxed at rates of around 15% instead of up to 45%. This gives you a great opportunity to perhaps keep 10% of that difference for yourself and save the remaining 20% each month.
Life in Hong Kong can be fantastic. It offers new challenges, life-changing experiences and, of course for some, high salaries and attractive benefits packages. For you and for your family.
Financial planning is a fundamental part of life overseas. Regular investing will help get you established.
This short guide will help you make the most of your time here.
It will also help you make the most of your money and to understand some of the reasons why preparing for the future is such a good idea.
"We're really enjoying living in Hong Kong, but I want to make sure we make the most of the opportunity we have to invest."
Financial planning is a fundamental part of life overseas. Regular investing will help you get established.
Don't delay
You've probably found that you're earning more than you did before you moved abroad.
But are you saving more? Are you setting yourself up for a secure future?
It may not be a priority at this minute, but at some point you may wish to take advantage of the opportunities available to you that aim to grow your wealth.
For many of us, however, it's much easier simply to enjoy the 'here and now'. Especially when living in a unique and exotic location.
In most circumstances the need for investing is triggered by a number of factors including age and life stage.
This guide aims to highlight some of the benefits of regular investing and ultimately to encourage you to take action now. To help you to make yourself 'good' when it comes to regular investing.
Not tomorrow, but today.
The biggest challenge we all face when thinking about saving and investing is balancing the financial demands in our lives now with the needs of our future.
Financial needs vary greatly depending on your life stage. Your current income and the actions you take today will determine how much money will be available to you later in life.
Here are a few milestones to help you map out your journey and stay on track towards achieving your individual financial goals.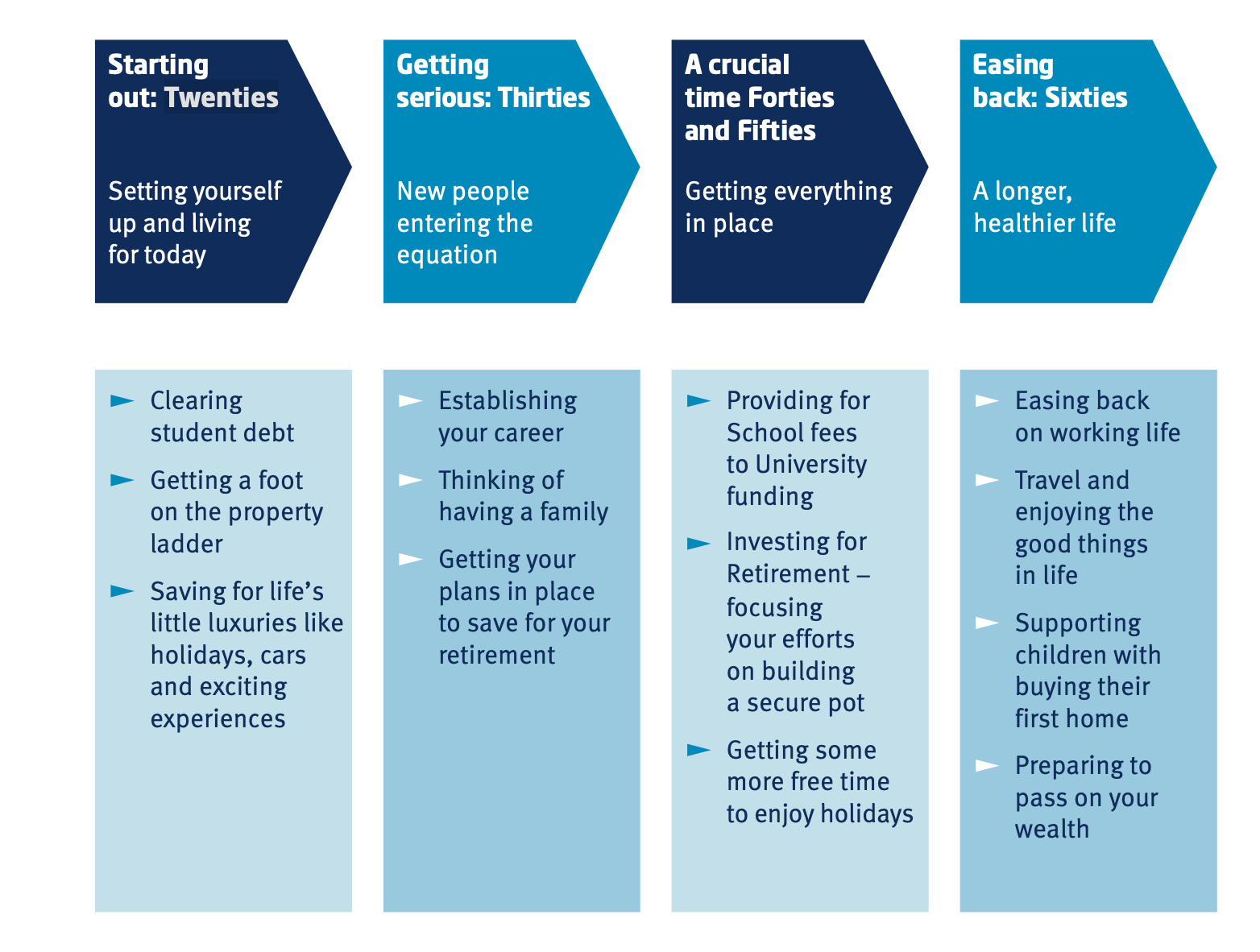 The benefits of regular investing
Dollar cost averaging
Many people think that investing a lump sum of money is always better than taking out a regular investment plan. Having lump sums of money to invest is certainly one way of building your investment funds, but there are advantages to investing smaller amounts regularly, the benefits of which are sometimes overlooked.
With regular investing, you invest a fixed amount of money at regular intervals regardless of whether the market is up or down. The same amount will buy more units when the price of the investment is low and fewer units when the price of the investment is high. This is called dollar cost averaging. The impact of this on your investments can be significant.
Cost of delay
People often think that delaying starting a regular investment plan by a couple of years won't matter all that much. The truth is that delaying starting your plans can have a dramatic effect.
The longer you delay, the higher the amount required to achieve a particular lump sum.
It may be stating the obvious, but when it comes to regular investing over the long-term, the sooner you start, the greater the opportunity to build up a bigger pot for your future.
The following example shows how big an impact a delay could have. You might be forgiven for thinking that investing twice as much for half the time will get you to the same place.
That's not the case at all.
When it comes to regular investing over the long-term, the sooner you start, the greater the opportunity to build up a bigger pot for your future.
Example
If you invest $1,000 each month over 30 years you might end up with a pot of $835,726*.
However if you decide to leave it for 15 years and then double the amount you invest each month to $2,000, your pot might only be worth $536,805* i.e. the end result is almost 1/3 less than if you had started earlier, even though you have put in the same total amount.
*Important notes Pot values quoted assume an annual growth rate of 5% over the periods indicated. These figures are indicative only and not based on an actual investment or saving. There is no guarantee of the annual growth rate. You will be subject to investment and market risks.
Reasons for regular investing
As we've been discussing, there are a number of different reasons for regular investing and for you to start doing so now. Here are just a few of them:
Education
Good quality education is a priority for every parent, but for anyone living overseas it's essential.
It can be a very expensive business too, so it's important to start planning your finances as early as possible.
It is becoming less common for companies to pay for private schooling as part of an overseas package. And then there are the university years to consider. It's important that you set aside sufficient money now to cover your potential costs.
Retirement
What kind of retirement do you want?
Just the basics or – more likely – a lifestyle that's in line with what you're enjoying today.
We are living longer and healthier lives. This means that it's even more important that you start planning sooner rather than later.
Part of that process will be to decide when you want to retire and assuming you'll want to have that good standard of living in retirement, then the earlier you start planning for it the better. And the sooner you want to retire, the more money you'll need.
We have produced two useful guides on Investing for Education and Investing for Retirement which provide more detail on the importance of planning for both these eventualities.
Emergencies
Living and working abroad means you'll need an emergency fund.
It's important to realise that it needs to be bigger than it would ordinarily need to be, as some emergencies will mean you may have to travel long-distances at very short notice.
Equally, should the unexpected happen when you're abroad you'll want to make sure you have money to fall back on.
Your financial adviser will help you to make sure that you have the right balance of long and short-term arrangements in place to cover any eventuality.
"We have a lovely quality of life here in Asia. When we retire we don't want our standard
of living to fall."
Retirement planning is now more vital than ever if you're to provide yourself with a wonderful and carefree life.
As specialists in managing people's money we aim to help you grow your wealth as you move around the world.
Our vision is to support you with long-term savings and investment solutions to allow you to look forward to the future with confidence.
Most of all, we'll help you make the most of the opportunities available to you while you're living or working abroad.
Now's the time to start regular investing.
Now's the time to talk to Heng An Standard Life (Asia).
Ask your financial adviser for details.
Find out more
Talk to your financial adviser for advice on how to plan for your financial future.
Call us on +852 2169 0300
(Mon – Fri, 9:00am – 5:30pm)
www.hengansl.com.hk
Disclaimer: The above information is for reference only and should not be construed as legal, taxation or investment advice. You should seek professional advice regarding your tax circumstances and for the types of saving and/or investment options suitable for you. Investing in investment-linked assurance scheme involves investment risks. Past performance is not indicative of future performance.