It's never been more important to prepare for your retirement and working in a low tax environment gives you a great opportunity to start.
What kind of retirement do you want?
Just the basics or, more likely, a lifestyle that's in line with what you're enjoying today. We are living longer and healthier lives. This means that it's even more important to start planning sooner rather than later. Retirement planning is essential if you're to provide yourself with a wonderful and carefree life.
When do you hope to retire?
It might be as soon as you can or you might want to delay the moment for as long as possible. One thing's for certain though. Whenever you do retire, you'll want to enjoy a good standard of living and that means taking some action now to plan for the future and the income you'll need. Part of that process will be to decide when you want to retire. The earlier it is, the more money you'll need. And, assuming you'll want to have that good standard of living in retirement, the earlier you start your plan the better.
How much will you need in retirement?
Many people aim to have enough money to replace two-thirds of their salary during their retirement years. Some need much less than this. One of the key things to remember when planning for your retirement is that your needs now will probably be different to your needs later. With that in mind, here are some factors you should be considering:
During your working life you – very broadly – spend one third of your time working, one third sleeping and the remaining one third for leisure and your wider interest. Retirement frees up a third of your day for leisure and interests. How will you fund it?
If you have a mortgage you're probably aiming to pay it off by the time you retire, so you'll be free of one of your main outgoings.
By the time you retire your children are likely to be financially independent and have left home. However, you may have grandchildren. Your parents and your partner's parents may still be alive and need financial assistance. Indeed, as you get older, you might need more help yourself.
Retirement is a fantastic opportunity to spend more time on those things you enjoy. You may want to take more holidays, go travelling or take up something new.
You may want to improve your property, plus, it still needs to be maintained and insured, as does your car. You may need to save for these bills and other items like family celebrations and special occasions.
Inflation is an important factor which will affect your standard of living in the future. The higher the inflation rate, the more money you will need to maintain the same quality of living in retirement.
The following table illustrates how the inflation rate could affect the income you'll require in the future
Desired Annual Income
(Today's term US$)

Annual Inflation Rate

Desired Annual Income in the future (US$)
10 years
20years
30years
50,000
3%
67,196
90,306
121,363
4%
74,012
109,556
162,170
5%
81,445
132,665
216,097
How much will you need to get there?
To help make sure you have enough money when you retire, you should start planning now. There's lots of confusion surrounding the best way to fund your retirement. Although it may seem like a long way off for some, the key to financial stability in the future is all about clever planning right now.
The graph below illustrates how much you may need to invest in order to achieve a US$50,000 retirement income in 30 years time. To reach an annual income of US$50,000 (in today's terms) you may need to have a pot of around US$2.97m. To achieve this you would need to invest US$3,543 per month (US$42,518* per year) over 30 years.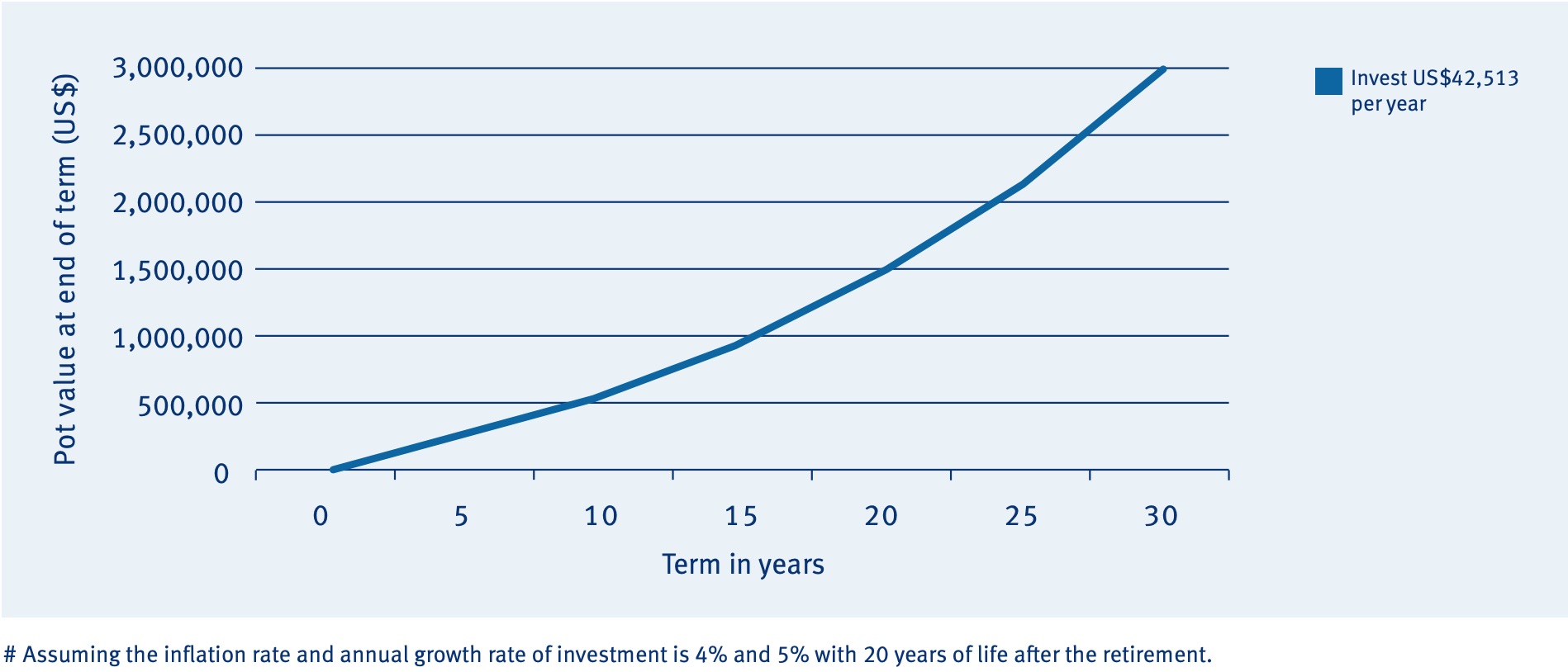 *Important notes
Pot values quoted assume an annual growth rate of 5% over the periods indicated. These figures are indicative only and not based on an actual investment or saving. There is no guarantee of the annual growth rate. On the contrary, you will be subject to investment and market risks.
Regular investing in investment-linked assurance schemes from as early on as possible is a great way of funding that good standard of living in retirement that you want.
As specialists in wealth management for expats, we aim to help you grow and protect your wealth as you move around the world.
Our aim is to support you with long-term savings and investment solutions to allow you to look forward to the future with confidence.
Most of all, we'll help you make the most of the opportunities available to you while you're living or working abroad.
After all, retirement is a time to enjoy life, not worry about money.
Your financial adviser will be able to help you plan.
Now's the time to start planning.
Now's the time to talk to Heng An Standard Life (Asia).
Ask your financial adviser for details.
Disclaimer: The above information is for reference only and should not be construed as legal, tax or investment advice. You should seek professional advice regarding your tax circumstances and the types of savings and/ or investment that are suitable for you. Investing in investment-linked assurance scheme involves investment risks. Past performance is not indicative of future performance.