AllianceBernstein
The global economy maintains its steady pace of recovery. In the face of inflation concerns and future interest rate changes, how should investors deploy fixed income investment strategy in 2022? What are risks to investors in the bond market?
We at AB are reasonably optimistic about the backdrop. Growth should be set up pretty well for 2022. We are optimistic about a couple of different sectors—not just developed-market corporates, high yield, US and Europe but also emerging-market (EM) assets, with a strong preference for dollar-denominated—or what they call hard currency—EM sovereigns and EM corporates. In the sovereign space, we have a strong preference for BB- or B-rated sovereigns because of the valuation that's currently offered. And the tailwinds that we've seen from strong growth we think should continue, especially as the vaccine rolls out globally.
Trade is starting to pick up globally. We also think the Biden administration will be much more supportive to its trade partners globally. So, it should be supportive for emerging markets. On the corporate side, we have a preference in between investment-grade and high-yield rated debt. Thus we'd like both EM corporates that are BBB-rated and BB-rated. Spreads aren't quite as attractive on the corporate side, but the diversification offered allows us to build portfolios with an attractive income, strong liquidity and price appreciation potential if emerging-market growth does show as strong as we or others expect for 2022.
Within the developed-market corporate space, we still like US high yield, even though spreads are well below long-term averages. We think there's limited downside in high yield, specifically because the average credit quality of the US high-yield market has increased markedly in the last 18 months.
Display 1: The Quality of HY Market Is Better as Fallen Angels Entered and Risker Credits Defaulted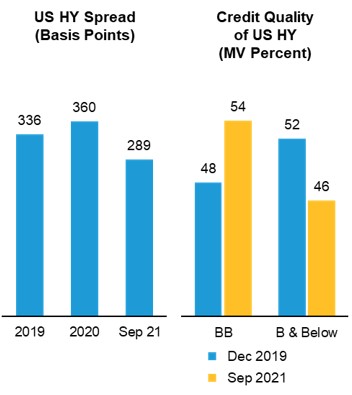 Historical analysis does not guarantee future results.
As of 30 September 2021. HY: high-yield; 1 basis point (b.p. / bps) = 1/100 of a percentage.
Source: Bloomberg Barclays, J.P. Morgan and AllianceBernstein (AB)
Securitized Assets: Opportunities and Risks
When we think about securitized assets, there's two key categories: one, commercial real estate; and two, residential real estate—two totally different positions in the capital markets today. On the residential side, fundamentals are extremely strong. The securities that we like are floating rate in nature. They're loans that have been provided to homeowners who have lots of equity built in. So, in the last 18 months, we've seen strong house price appreciation. We expect that to continue.
Display 2: Home Prices Increased Significantly in Less Dense Areas
YoY seasonably adjusted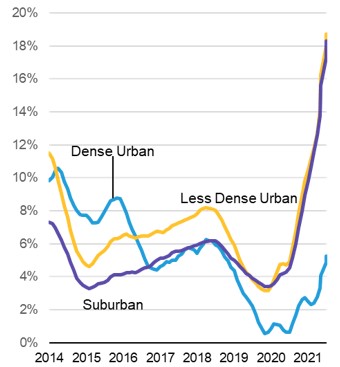 Historical analysis does not guarantee future results.
Dense Urban is defined as population >20K people per sq mile, less dense urban is population of 10K to 20K people, and suburban is population of 3K to 10K people. As of 31 August 2021. Source: US Census Bureau and Morgan Stanley
That contrasts, though, when we compare that to the commercial real estate side. Investors are still nervous that the commercial real estate side in the US has not fully opened up. Investors are primarily worried about two key portions—retail and lodging. We look at the prices on those two sectors and see that upside/downside for those two sectors look extremely attractive. The loss-adjusted yields, even in a bad environment, are offering an opportunity for investors who can hold for the next 12 to 24 months—returns of potentially between 8% and 10%. We think that's pretty attractive.
Inflation and Interest Rate Concerns
When we think about risk, a few things are front and center. First, how aggressively is the Fed going to raise rates to combat inflation and inflationary expectations. Our expectation for core CPI next year is between 2.5% and 3%. We believe the Fed should raise rates, later, in 2022. We're also watching inflation expectations. And if consumers or corporations begin to change their actual behavior—meaning spend more now because prices are going to rise in the near future—then the Fed will also need to react with faster and more rate hikes. That's not AB's base case view.
The second risk to focus on would be China economic growth—and the China property sector, specifically. At the moment, China housing makes up almost 29% of their economy and has driven a lot of the growth since the global financial crisis. And, with the housing market coming under pressure, the negative impact to their economy has investors somewhat concerned. We didn't have very much direct exposure at all coming into 2021. But at the moment, with where bonds are priced in China property specifically, we're starting to find that as an attractive opportunity to generate income for our clients. We believe that China property is a systemically important industry and that policy support is forthcoming, even though it's taken longer than investors would've liked to have seen.
For 2022, we're optimistic about our credit barbell strategies. US Treasury yields have increased, and we think this is an attractive time to start adding modest amounts of duration to balance out the credit risk that comes from developed-market credit—both in the US and Europe.
The information contained here reflects the views of AllianceBernstein L.P. or its affiliates and sources it believes are reliable as of the date of this publication. AllianceBernstein L.P. makes no representations or warranties concerning the accuracy of any data. There is no guarantee that any projection, forecast or opinion in this material will be realized. Past performance does not guarantee future results. The views expressed here may change at any time after the date of this publication. This document is for informational purposes only and does not constitute investment advice. AllianceBernstein L.P. does not provide tax, legal or accounting advice. It does not take an investor's personal investment objectives or financial situation into account; investors should discuss their individual circumstances with appropriate professionals before making any decisions. This information should not be construed as sales or marketing material or an offer of solicitation for the purchase or sale of, any financial instrument, product or service sponsored by AllianceBernstein or its affiliates.
Investment involves risks. This document has not been reviewed by the Securities and Futures Commission. The issuer of this document is AllianceBernstein Hong Kong Limited (聯博香港有限公司).
©2021 AllianceBernstein L.P. The [A/B] logo is a service mark of AllianceBernstein and AllianceBernstein® is a registered trademark used by permission of the owner, AllianceBernstein L.P.